Theosophical Order of Service
Philippines
Every day, thousands of children die due to the effects of malnutrition. Yet there is sufficient food production to feed every adult and child in the world
Thousands of children could not go to school even when tuition fees are free in public school. They cannot afford to buy shoes, uniform, books, etc.

Thousands of mothers are not familiar with the rudiments of child rearing, marital relationships, sanitation, etc

.
These are some of the problems faced by society today. The Theosophical Order of Service in the Philippines has undertaken a comprehensive program for the upliftment of the less fortunate people in our society through the following programs:
Intensive Rehabilitation of 2nd & 3rd Degree Children
Establishment of Schools
Educational Sponsorship Program
Medical and Dental Missions
Values Education and Character Building Program
Mother's Classes
Leadership Training Program
Community Development Program
Schools of TOS
Metro Manila:

Golden Link School
TOS Learning Center
Sunshine Learning Center

Bacolod City

Besant School
TOS Learning Center

Anyone interested in volunteering in the above service programs may contact the TOS headquarters.

Scholarship Program
If you are interested in supporting one student in the Philippines, just get in touch with the TOS in the address below. Sponsors will receive a regular report on the status of the student, together with a family profile and photograph of the child. Click here for information on the cost of sponsoring a child to school.
---
Green Earth Foundation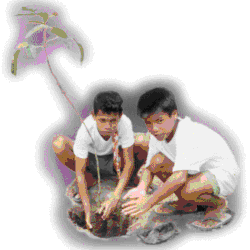 The earth is sliding down an environmental abyss. Governments seem helpless in reversing it. They are afraid of the effect of environmental policies on unemployment, economic growth, GNP, etc. and its effect on the next election.
The average citizen must take part in this global effort to reverse the trend towards overconsumption, deforestation, pollution, and acts of environmental degradation.
The Green Earth Foundation is the share of the Theosophical Society in the Philippines in this worldwide effort. It is involved in tree-planting and reforestation program, as well as in information dissemination.
Write or contact:
The Theosophical Order of Service Foundation, or
Green Earth Foundation, Inc.
1 Iba St., Quezon City, Philippines
Tel. No. (63-2)741-5740; 743-1181
Fax No. (63-2)740-3751
Email: theophil@info.com.ph